DOMESTIC BROADCASTING SURVEY - 5th EDITION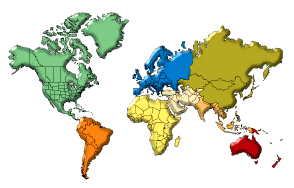 Author: Anker Petersen
Sponsor:
The Danish Shortwave Club International

An INFOVIEW by Rob Wagner (VK3BVW), Melbourne, Australia
Network Technical Manager - Electronic DX Press
June 2003
---
One of the most invaluable reference sources you can have on the desk next to your radio is, without a doubt, the indispensable Domestic Broadcasting Survey produced by the Danish Shortwave Club International. Edited once again by Anker Petersen, the latest 5th edition was released in May 2003, runs to a massive 48 pages, and should be considered by every serious DXer.

I had a chance to review this latest DBS while away from home recently for a long weekend holiday, with trusty radio in tow! At various times of the day and night I checked out many of the frequencies listed in the document and found it to be of great accuracy. In fact, for some Latin broadcasters, accurate quotations of the station identifications were even listed, which in more than one case proved to be invaluable when comparing with what I was actually monitoring at the time.

The list is made up of actual monitored reports by DXers around the world. For me, this is what makes the survey such an invaluable resource. It is not just some government or broadcasting authority's view of what should be on frequency, but accurate loggings by people who constantly scan the bands for this information. Added to this is the coded listing of activity for each station by regular, sporadic or likely inactive, which really helps confirm to which station you are probably listening.

The survey is jammed-packed with useful information on languages, transmission times, the broadcaster's network, parallel frequencies, announcements, locations, transmitter power and a host of other tips. There is also a special listing of those Indonesian provinces and special districts that help to accurately locate stations on those far-flung islands to the north of Australia.

I particularly found interesting the list of stations deleted from previous editions of DBS. It was fascinating, and rather alarming, to see so many stations, particularly Latin broadcasters leaving the tropical bands. This list of deleted stations from DBS-2, -3 and -4 runs for four closely typed pages. Unfortunately, this section is a large and growing reference. However, it is also a handy feature of the DBS, for occasionally stations can suddenly be reactivated without warning. If you keep past copies of the Survey for reference purposes, study of these can reveal when the station was last heard and its previous operating schedule. This is very useful information for that all-important logging of a reactivated broadcaster.

It must also be mentioned that there is an excellent review of domestic broadcasts on the higher frequencies outside the tropical bands. This detailed analysis of non-international shortwave broadcasts puts DBS in a league of its own.

Congratulations to Anker Peterson and the Danish Shortwave Club International for, once again, producing such a fine resource. Their foresight in electing to make the document available by email in a PDF format ensures that the Domestic Broadcasting Survey gets into the hands of DXers for a reasonable price.

For further details and ordering arrangements, please visit http://www.dswci.org

(Rob Wagner VK3BVW)