LATIN AMERICA SURVEY
---
A Special Publication of the Electronic DX Press
January 2004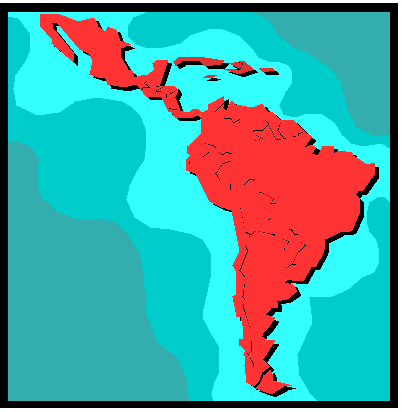 Compiled and edited by
Rob Wagner VK3BVW, Ringwood North, Victoria, Australia
---
CONTENTS
The Season 2003 Report
The Monitoring Log
DX Target: Radio Mallku
QSLs from the Latins
---

SEASON 2003 REPORT
This survey records observations made during the winter months of May through July in Victoria and New South Wales. A few additional observations in the months of April and August to October have also been included. This list includes domestic Latin American broadcasters both in the Tropical Bands and in the International Shortwave Bands. Although we focused mainly on stations whose prime target audience is local (within country borders), several stations with International Services have also been included.
Although many Latin American broadcasters have deserted the shortwave tropical bands during the last 15 years, perferring to expand their services on the FM bands, there are still quite a number of stations to hear and enjoy. It is expected that this trend of moving away from shortwave will continue by the Latin broadcasters, so my advice is to hear them while you can. In another 5 to 10 years, they could all have disappeared.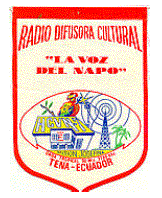 SIGNAL PROPAGATION

Although the sunspot count was still very high at times throughout 2003, the tropical low frequency bands stood up well with good propagation providing some exciting listening, particularly during out winter months.

Most signals arrive in Eastern Australia via a darkness path across the Pacific Ocean. This short path from Central and South America can be noted in our late afternoons from around 0530 UTC(3.30 pm) throughout the evening to around 1200 UTC (10.00 pm). This corresponds with early morning times at the transmitter sites and is generally the easiest time period to hear the Latins2100 to 2300 UTC (7.00am to 9.00 am local) via the long path. These signals travel across the darkness path over the Atlantic Ocean, Europe and Asia However, nearing the two equinoxes (March and September) there is another path over the Antarctic. At these times, there is just enough daylight and darkness over the South Pole to allow shortwave signals to propagate between Australia and eastern South America. Brazilian stations can often be hear at their best during these times, particularly on the 49 and 31 metre bands.

OTHER ASPECTS OF LISTENING TO LATIN AMERICA

Most of the stations listed here are operating with much lower transmitter power than the big international broadcasters. Powers of 500 watts to 10 kilowatts are typical, and designed to reach their local listeners or neighbouring countries. Many of them are commercial broadcasters, so you will hear recorded advertisements just like you do on the mediumwave band here at home.

Rarely will you hear English transmissions.

Spanish is the national language for most countries in the region, with the exception of Brazil where Portuguese is the national tongue.

However, you will also hear local Indian languages such as Quechua, Aymara and Shar. Spanish and Portuguese are "romance languages" with Latin roots and this usually makes it easy to identify each station and gauge what is being spoken about.

Careful listening will identify many words that are similar to English.

Occasional listening to SBS Radio will help attune your ears to Spanish in preparation for monitoring the Latin broadcasters.

EQUIPMENT REQUIREMENTS

Often it isn't so much the type of receiver that is important for successful reception of these station. In many cases, the major requirement is finding a location where electrical man-made interference is down to a minimum. It's most difficult in many suburban locations to hear anything when competing with powerlines, televisions, cable modems, electrical appliances, etc, etc. This is why I spent a number of winter nights out in the bush not far from Melbourne. On those occasions, some spectacular successes were achieved such as the Mexican station on 2390 kHz or Guyana on 3291.1 kHz! But it IS possible to DX the Latins from home - just be patient, check the bands regularly each day, and you will be rewarded.

Receivers with good sensitivity and selectivity are helpful. The receivers used in compiling this list included Sangean portables, Panasonic DR49, FRG100, and Kenwood R2000. Antennas used by the contributors included dipoles, a T2FD antenna and long wires. Facilities such as Digital Speech Processing (DSP), notch filters, variable bandwidths, and listening in single sideband are all additional methods of coping with the barrage of electrical and atmospheric interferences that make life difficult.
CONTRIBUTORS
My thanks to Bob Padula and Mike Stevenson for their contributions to this survey. Their enthusiasm throughout the Latin season was also appreciated. During the winter months, we were trialing the Internet chat program MIRC. This resulted in a number of online meetings during our evenings, making real-time comparisons of reception from our three listening posts. Most interesting and lots of fun!
My thanks to Richard D'Angelo for contributing his excellent article on the Bolivian broadcaster, Radio Mallku. This is a station which we did not hear in Australia last DX season. However, I invited Rich to contribute this because it gives a wonderful insight into your typical Latin broadcaster and the environment within which it operates.
FEEDBACK
As we approach the 2004 Winter DX Season, I hope that this EDXP Special Report will encourage you to explore this fascinating aspect of the DX hobby. It will be a useful guide for what we may hear in the coming months. If you enjoyed reading this document, or have suggestions for its improvement, I'd love to hear from you. Send comments to me by email to: shortwave_radio@yahoo.com.au
Rob Wagner
Survey Coordinator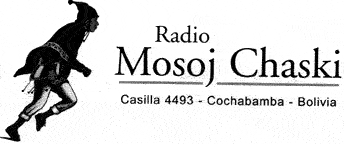 ---

THE MONITORING LOG
2003 AUSTRALIAN WINTER DX SEASON
Freq.

Country

On

Off

Station

Notes

2390

Mexico

*1200

1230

R. Huayacocotla, Veracruz

Good level but fades quickly after s/on as the Mexican sun rises in the morning sky! (Rob)

3220

Ecuador

0850

1100

HCJB

Quechua under R. Morobe, // with 6080

3255

Brazil

1050

1120

R, Educadora Seis de Agosto, Xapuri

3279.6

Ecuador

0850

1200

La Voz del Napo, Tena

Quechua before 0900, then Spanish

3291.1

Guyana

0950

1010

Guyana Broad. Corp.

One of the highlights of the season! Faded in for 20 min one night then gone. English service. (Rob)

3300

Guatemala

1030

1215

R. Cultural, Guatemala City

Reported recently as off-air due to electricity costs and few listeners (Oct '03)

3310

Bolivia

1000

1130

R. Mosoj Chaski, Cochabamba

3375

UNID

1000

UNID

Mixed with PNG.

4746.9

Peru

0905

1220

R. Huanta 2000, Huanta, Ayacucho

4765

Brazil

0800

1030

R. Rural, Santarem, Para

4775

Peru

0910

1215

R. Tarma, Junin

4780

Guatemala

1040

1220

R. Cultural Coatan, San Sebastian Coatan

4781.4

Ecuador

1000

R. Oriental, Tena, Napo

4785

Brazil

0910

1100

R. Caiari, Porto Velho

4790

Peru

0940

1145

R. Atlantida, Iquitos

4799.8

Guatemala

1040

1215

R. Buenas Nuevas, San Sebastian

4805

Brazil

*0945

1100

R. Difusora do Amazonas, Manaus

4815

Ecuador

0950

1145

R. El Bien Pastor, Saraguro

4824.4

Peru

0950

1210

La Voz de la Selva. Iquitos

4825

Brazil

0945

1030

R. Cancao Nova, Sao Paulo

4826.2

Peru

0910

1200

R. Sicuani, Cusco

Varies to 4826.5 kHz

4835.5

Peru

1000+

R. Maranon, Jaen, Cajamarca

Presumed - no positive ID

4845.2

Brazil

0815

1100

R. Cultura Ondas Tropicais, Manaus

a.k.a. R Cultura do Amazonas, varies to 4845.5 kHz, sometimes s/on at 1000

4856.2

Peru

0950

1130

R. La Hora, Cusco

Varies to 4856.5 kHz

4865

Bolivia

1030

1130

R. Centenario, Santa Cruz

IDs as 'Radio Nueva' and 'La Nueva'.

4865

UNID

0945

UNID

Weak level, perhaps one of the 3 Brazilians listed here!

4876.7

Bolivia

0945

1145

R. La Cruz del Sur, La Paz

Varies 4876.7-4877 kHz

4885

Brazil

0720

1100

R. Clube do Para, Belem

4886.6

Peru

1115

1200

R. Virgen del Carmen, Huancavelica

4890

Peru

0545

1045

R. Macedonia, Arequipa

Sometimes dominating over NBC Port Moresby after 0800. ID as 'Aqui Macedonia....'.

4895

Brazil

1015

UNID

Not sure which Brazilian - perhaps

R. Bare, Manaus?

4905

Peru

1040

1145

R. La Oroya, La Oroya, Junin

4915

Brazil

0633

0930

R. CBN & R. Difusora

Both stations at equal level, v. hard to tell apart, both slightly off freq.!!

4919

Ecuador

0700

1200

R. Quito, Quito

4925

Brazil

1015

1115

UNID

In Portuguese, no positive ID obtained

4929.93

Bolivia

1015

1115

R. San Miguel, Riberalta

Reported end of July on 4734.8kHz. Has since moved again to 4902-4905v (Sept '03)

4939.6

Venezuela

0900

1115

R. Amazonas, Puerto Ayacucho

Presumed - no positive ID

4950.15

Peru

1030

1100

R. Madre de Dios, Puerto Maldonado

4955

Peru

1015

1220

R. Cultural Amanta, Huanta

4960

Ecuador

0900

1230+

R. Federacion, Sucra

Varies to 4959.85 kHz

4960

Dominican Rep.

1005

R. Cima, Santo Domingo

With het, probably from Ecuador

4965

Peru

0930

1215

R. Santa Monica, Cusco

4974.75

Peru

0645

1145

R. Del Pacifico, Lima

Varies from 4974.74 to 4974.85 kHz

4985

Brazil

0645

1030

R. Brasil Central, Goiania

Noted as high as 4985.5 kHz

4985

Brazil

2030

2200

R. Brasil Central, Goiania

Via long path

4992.5

Peru

1000

1100

R. Ancash, Huaraz

4995.6

Peru

1000

1050

R Andina, Huancayo

5006

UNID

0934

UNID

Weak signal noted at this time.

5009.6

Peru

1010

1110

R. Altura, Cerro de Pasco

Presumed - no positive ID

5009.6

Dominican Rep.

*1030

1200

R. Cristal

5020

Peru

1015

1140

R. Horizonte, Chachapoyas, Amazonas

Under Solomon Islands, creating low het due to slightly off frequency

5025

Cuba

0610

1210

R. Rebelde, Bauta

Over VL8K Katherine till 0830 s/off of ABC. Later, hets with R. Quillabamba.

5025

Peru

1015

1145

R. Quillabamba, Cusco

Hets with R. Rebelde

5029.4

Costa Rica

0545

1200

University Network via Cahuita

5035.1

Brazil

0900

1040

R. Aparecida, Sao Paulo

5054.6

Costa Rica

0715

0830

TIFC Faro del Caribe, San Jose

5952.5

Bolivia

0900

1115

R. Pio XII, Siglo Veinte, Potosi

ID as Radio Pio Doce. Varies 5952.5 - 5953.5 kHz

5990

Brazil

0815

0945

R. Senado

5990

Brazil

2100

2245+

R. Senado

Via long path

6009.8

Colombia

0700

1030

La Voz de tu Conciencia

6010

Mexico

0730

1000+

R. Mil, Mexico City

Still audible under HCJB's German s/on at 0930, to past 1000.

6020.25

Peru

0500

1045

R. Victoria, Lima

Under RA-Shep from 0900

6042.6

Peru

0715

0930

R. Melodia, Arequipa

6060

Ecuador

*1100

HCJB

Regional service

6060

Brazil

0615

900

R. Tupi, Curitiba

Portuguese

6060

Argentina

2330

0100

R. Nacional/RAE

6070

Chile

2315

1000

Voz Cristiana, Santiago

Noted throughout the day, via long & short paths

6080

Ecuador

*0830

1145

HCJB

Quechua service

6105

Brazil

0610

0830

R. Cancao Nova, Sao Paulo

6105.5

Bolivia

1030

1130

R. Panamericana, La Paz

6114.9

Peru

0500

0930

R. Union, Lima

Mixed with R. Tampa, Japan

6134.84

Bolivia

0900

1100

R. Santa Cruz, Santa Cruz de la Sierra

6135

Brazil

0930

1015+

R. Aparecida, Sao Paulo

Mixed with R. Santa Cruz co-channel.

6135

Brazil

2100

2200

R. Aparecida, Sao Paulo

Via long path

6160

Brazil

0700

0930

R, Rio Grande do Sul, Porto Alegre

6173.8

Peru

1020

1150

R. Tawantinsuyo, Cusco

6180

Brazil

0800

1030

R. Nacional da Amazonia, Brasilia

6180

Brazil

2015

0000

R. Nacional da Amazonia, Brasilia

Via long path

6185

Mexico

0540

1100

R. Educacion, Mexico City

Mixed with China from 0945

6188

Peru

1020

1150

R. Oriente, Yurimaguas

6193.5

Peru

0940

1115

R. Cusco

9530

Brazil

2100

2300

R. Nova Visao, Santa Maria

Via long path

9565

Brazil

2030

0200

R. Tupi, Curitiba

Via long path

9630

Brazil

2015

0200

R. Aparecida, Sao Paulo

Via long path

9635

Chile

2100

2200

Voz Cristiana, Santiago

Via long path

9645.9

Brazil

2030

0200

R. Bandeirantes

Via long path

9675

Brazil

2030

2130

R. Cancao Nova, Sao Paulo

Via long path

9695

Brazil

2130

2300

R. Rio Mar, Manaus

Via long path

9720

Peru

0530

R. Victoria, Lima

9725

Costa Rica

0600

0715

Carribean Beacon/University Network, Cahuita

11710

Argentina

0100

0400

R. Nacional/RAE

Via long & short paths

11725

Brazil

2100

2200

R. Novas de Paz, Curitiba

Via long path

11745

Chile

0100

0300

Voz Cristiana, Santiago

11765

Brazil

2100

2200

R. Tupi, Curitiba

Via long path

11815

Brazil

1945

2100

R. Brasil Central, Goiania

Via long path

11815

Costa Rica

0100

0400

R. Exterior Espana, via Cariari de Pococi
---

DX TARGET: RADIO MALLKU
The Voice of the Campesinos (Peasants)
By Richard A. D'Angelo, Wyomissing, PA, USA
South America offers many opportunities for shortwave listeners to experience and enjoy local culture and tradition through the domestic shortwave broadcasting operations from these countries. That is one of the more fascinating side benefits of being a shortwave listener. A special part of this listening endeavor is hearing small regional tropical band stations, commercial or religious in nature, broadcasting programs to the campesinos. Radio Mallku is one of those special stations serving the Andes region in Bolivia. This DX Target will focus on Bolivia, the region surrounding the station, and Radio Mallku.
BOLIVIA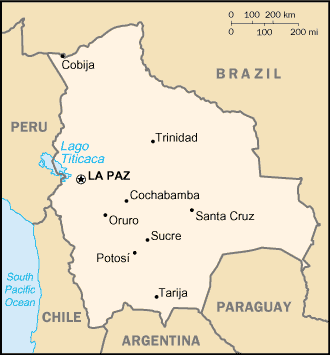 Bolivia, named after independence fighter Simon Bolivar, broke away from Spanish rule in 1825. A vast majority of its subsequent history has consisted of a series of almost 200 coups and counter-coups. Comparatively democratic civilian rule was established in the 1980s, but leaders have faced difficult problems of deep-seated poverty, social unrest, and drug production. Current goals include attracting foreign investment, strengthening the educational system, continuing the privatization program, and waging an anticorruption campaign.
Bolivia is a landlocked country located in Central South America that borders Argentina, Brazil, Chile, Paraguay, and Peru. It shares control of Lago Titicaca, the world's highest navigable lake (elevation 3,805 meters or 12,500 feet), with Peru. The seat of government is La Paz while Sucre is the legal capital and seat of the judiciary. Its climate varies with altitude from humid and tropical to cold and semiarid. The terrain features the rugged Andes Mountains with a highland plateau (Altiplano), hills, and the lowland plains of the Amazon Basin. Major minerals and economic resources are tin, natural gas, petroleum, zinc, tungsten, antimony, silver, iron, lead, gold, timber and hydropower.
The country's population of 8.5 million inhabitants consists 30% of Quéchua, 30% of mestizo (mixed white and Amerindian ancestry), 25% of Aymara, and 15% white. Bolivia has three official languages, Spanish, Quechua, and Aymara. All of these languages can be heard on various shortwave broadcasting stations in the country at one time or other.
Bolivia, long one of the poorest and least developed Latin American countries, is trying to make progress through the development of a market-oriented economy. Successes include the signing of a free trade agreement with Mexico and becoming an associate member of the Southern Cone Common Market, as well as the privatization of the state airline, telephone company, railroad, electric power company, and oil company. Growth slowed in 1999, in part due to tight government budget policies, which limited appropriations for anti-poverty programs, and the fallout from the Asian financial crisis. In 2000, major civil disturbances in April, September and October, held down overall growth. Bolivia's economy failed to grow in 2001 due to a global and domestic slowdown of activity. Although growth is slowly picking up again, the fiscal deficit and debt burden will continue to remain high. The clearing of land for agricultural purposes and the international demand for tropical timber are contributing to deforestation in the country. Soil erosion from overgrazing and poor cultivation methods (including slash-and-burn agriculture) along with industrial pollution of water supplies used for drinking and irrigation all contribute to Bolivia's serious environmental problems.
THE STATION

Radio Mallku is located in Uyuni in the southern region of Bolivia near the borders of Chile and Argentina. The city of Uyuni itself is an important railroad crossing, but otherwise the area is a neglected backyard of Bolivia where people are poor and the climate is hostile. One of the most popular tourist places in Bolivia is the Salar of Uyuni, a 9,000 square kilometers (4,680 square miles) salt desert at an altitude of 3,650 meters (11,970 feet). It's the largest salt flat in the world. It was once part of a prehistoric salt lake that covered most of southwestern Bolivia. Armed with only picks and shovels, the local campesinos harvest salt from this ancient lake filled with an estimated 10 billion tons of fine salt. Situated in a semi-arid climate, the Salar has an average annual rainfall of about 10 inches. During the rainy season, from December to March, the Salar may be covered with salt water to depths of 25 centimeters, however during the dry season, the salt water evaporates.
The Uyuni region is made up of hospitable people living in a relatively cold climate of the highland region of Altiplano Sud. Until the privatization of the railroad in 1994, Uyuni was an important regional transportation center. The region is one of the poorest in all Bolivia. Consequently, many people have migrated to nearby Argentina and Chile in search of better work and living conditions.
Mallku is an indigenous word that means cóndor. The station was founded in late 1996 under the name of Radio Andes, but was only legalized when it received a license on 29 September 1999 after changing to its present name. Some shortwave listeners believe that the illegality of the operation from 1996 though 1999 was a major reason for the lack verifications during this period.
Radio Andes was established and operated by Federacion Regional Única de Trabajadores Campesinos del Altiplano Sud ("FRUTCAS"), which has members in five provinces in the Department of Potosí. Aside from the mountain range, "Andes" referred to the initials of the five provinces in the area: Antonio Quijarro, Nor Lipez, Daniel Campos, Enrique Baldiviezo and Sud Lipez. However, the radio authorities in La Paz wouldn't allow the station to operate under the name Radio Andes, because it closely resembled the name of another station, Radio Los Andes, a Tarija radio station, located in Mérida, Venezuela and operating on medium wave, 1040 kHz, and shortwave, 6010 kHz. The name changed in late 1999 to the current Radio Mallku.
The station is a labor union operation and orients its programming accordingly. Freddy Mamani M., who is in his early 20's, is responsible for the station's programming. Radio Mallku targets the interests of the campesinos in the southwest of the Departamento de Potosí. Education and health programs in Spanish and Quéchua dominate the program line up. Radio Mallku also carries "Mensajes" (messages to/from family and friends) similar to many other rural Latin American stations. Music programs fill out the programming structure.
The station is a small operation with only two people employed full time with freelance and volunteers helping out. The station broadcasts just five hours of programming each day, commencing at 1000 UTC with national music. The morning schedule runs through 1200 UTC. The station returns in the evening at 2100 UTC with music and information programming until sign off around midnight UTC. Radio Mallku operates on 4,796 kHz with 1,000 watts. Naturally, being a Latin station means that precise sign on and sign off times do not exist. Think of these time periods as a guiding principle.
The station sporadically replies to Spanish language reception reports with adequate return postage (US$2.00) with a nice letter from E. Freddy Mamani M., Responsible de Programación. The station can be reached at:
Radio Emisora "Mallku"
La Voz de Los Trabajadores Campesinos de Altiplano Sud
Casilla 16, Uyuni, Potosí, Bolivia
Bolivia offers shortwave listeners an opportunity to hear an exotic Latin country. Radio Mallku would make a good addition to the target list of any serious Latin American shortwave enthusiast. As always, remember to send in those exotic Radio Mallku station logs and those rare and interesting Radio Mallku verifications to EDXP-HF forum. Good luck with this DX Target.
---

A FEW THOUGHTS ON QSLING THE LATINS
By Rob Wagner
It is important to be mindful that the vast majority of LA stations heard on the shortwave bands are not targeting international audiences. They do not have the same agenda as our regular international broadcasters. The stations are using shortwave because, for the most part, it allows them to reach a greater audience in their own country than they could do using MW or FM frequencies. Indeed, many stations also have MW/FM outlets as well as their SW frequencies. This situation is changing. We are finding some countries that had many stations operating on shortwave, say 20 years ago, have very few broadcasters in the bands now, preferring to be totally committed to their MW and FM facilities. An example of this can be found in Venezuela.
We need to understand that most LA stations do not employ English speaking staff. Hence, the necessity to write to those stations in the language of the country being heard.
Having said that, however, there are more English speakers in Latin America today than there were twenty years ago. So, a few stations may have someone who could translate a letter and reception report that you send to them.
The question is, will they bother going to the trouble of translating a letter in English from a foreign listener? Most aren't really interested in acknowledging listeners in other countries, who just happen to pick up their domestically intended broadcasts. If they do take the time to reply, it is a courtesy that the station's management is extending to you, the foreign listener (DXer). I guess this is why QSL cards and letters from Latin stations are highly prized by the DX fraternity.
Broadcasts from a Brazilian station will generally be in Portuguese. Your reception report should contain an outline of the station's identification announcement, some description of the program content and times in local time zones, not UTC. A good Portuguese dictionary is also useful.
The same goes for Spanish reception reports to most other countries in Latin America. Here are some resources that will provide assistance in preparing reports in Spanish and Portuguese:
1. Ariel Crocco in Argentina has a useful little web site, which has samples of reception reports in Spanish and Portuguese. Click on:
http://arieldx.tripod.com/english/manualdx/variantes/dxlatino.htm
2. The Hard-Core DX web site has the same sort of thing. This site is a bit of a "dog's breakfast" in the way it is laid out…… it's difficult to find things. But I have dug out the following link for you:
http://www.hard-core-dx.com/nordicdx/dxlab/latinam4.html
3. Our own Bob Padula has written an excellent report guide for Spanish reception reports. Although originally printed under the banner of another organization and now currently out-of-print, Bob owns the copyright and may be able to assist in providing you with a copy.
4. The Internet is helpful here with various language translation engines. One I use quite a bit is called FreeTranslation. It caters for a number of languages, including Portuguese and Spanish. Simply type in your English sentence and press the button. Hey Presto!….. instant translation. However, beware because some of the results will contain inaccuracies. The automated translator can sometimes come out with some funny, twisted sentences. Nevertheless, it's most helpful for compiling descriptive comments on the program content you may be listening to. Click on:
http://www.freetranslation.com/
5. Information on QSLing of LA stations can be sourced from the excellent research by EDXP member Craig Tyson and his colleagues in the Addresses Plus section of the Passport to World Band Radio. Here, you will find descriptions of QSL policies, names of station officials to write to, addresses and postage information. It's an indispensable reference work.
6. The World Radio TV Handbook is another source for addresses of LA stations.
An indication of which stations in Latin America are good verifiers can be obtained from a valuable Internet reference source called The QSL Information Pages For BC-DXers. Handy information from other DXers:
http://www.schoechi.de/qip.html
Regarding postage for Latin stations, some DXers include a US$1 to help encourage the stations to reply. Others don't bother to do that at all, instead opting to include some postcards of their local district, or photos of themselves. One thing though, most of the stations don't accept, or indeed understand the use of International Reply Coupons (IRCs). So you usually waste your money including those with your letters.
The QSL success rate can be somewhat lower than for International stations. They may have very well received your letter but don't bother to reply because they are just not interested in a DX report. Some stations are well-known as "non-verifiers". That's why a response from a small LA station is a prized possession indeed!
Good luck as you go about the tricky task of QSLing stations of Latin America.
Rob Wagner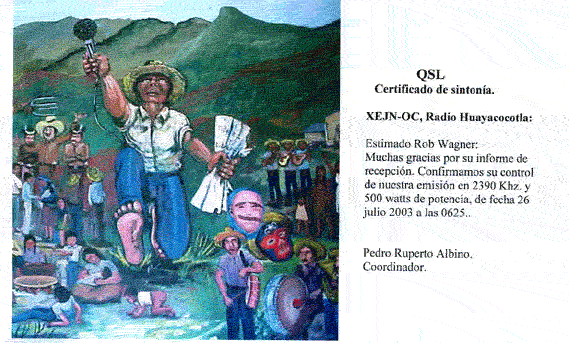 ---
Note: This article is Copyright and may not be further reproduced or quoted without the permission of the author short_wave@yahoo.com.au