Welcome to the Home Page of
SHORTWAVE AUSTRALIA
("The Australian Shortwave Club")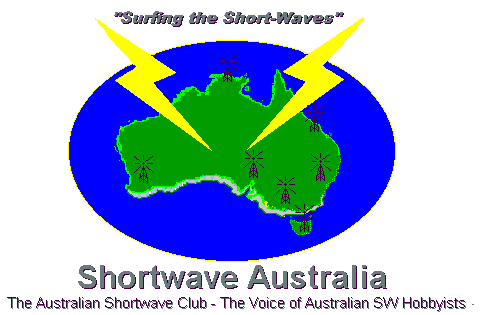 Shortwave Australia is a new Club, for Australian hobbyists interested in the reception of long-distance ("DX") radio broadcasts on the short-wave bands


It was founded on February 22, 2001
Membership is totally free, and members exchange information, news, and loggings via E-mail or the Web.
No membership fees!
A regular on-line magazine "THE AUSTRALIAN SHORTWAVE NEWS"
Electronic transmission of information and news
Instantaneous delivery of postings from members
Web viewing/downloading of all past archived messages
Availability of print and soft-copy products and publications at prices a little above cost

New: Free classified advertisement service for pre-loved radio and electronic items!
Australian Radio Cybermart
SW-AUS is an evolving, friendly Club, using modern technology for the interchange of information and news amongst its members There are no office-bearers in SW-AUS. Neither are there any constitutions, committees, boards, councils, secretaries, presidents, treasurers nor any other assemblage of palace courtiers! There are no financial reports or formal meetings.
SW-AUS operates similarly to its highly successful and very popular sister Club "MEDIUMWAVE AUSTRALIA", and is within the global parent organization "THE ELECTRONIC DX PRESS".
It is a condition of membership that members contribute news and information from time to time.

All new members are sent a small price list of publications available from us. These are generally offered at a little above cost, as we are not a money-making entity, and no GST is charged.

Our publication list also includes these annual references from overseas:

World Radio TV Handbook
Passport to Worldband Radio
Klingenfuss Shortwave Frequency Guide
Klingenfuss Utility Guide
Klingenfuss Super Frequency List on CD-ROM
Domestic Broadcasting Survey (Danish Shortwave Club International)

For publications and pricing, please visit the
Electronic DX Press Home Page
---
HOW TO JOIN?
Membership is available only to persons resident in Australia or its Territories. However, Associate Membership is available (free) to any organization anywhere in the world supporting shortwave radio distance monitoring. Associate members are obliged to provide reciprocal access to their products and services and will be listed on this Home Page

It is very easy to join! All you need to do is to end an E-mail with your real name, postal mailing address, E-mail address, and year of birth to the Club Convenor and you will be enrolled promptly. We are unable to accept applications from persons who decline to advise us of all of these details. Member addresses will not be divulged or made available to other parties without their prior consent. The Club's archived messages are only accessible to members, using a free password provided by the TOPICA.COM organization.

A Membership Certificate will also be sent to each new members electronically, which contains their official Club Membership Number, date of enrollment, and real name.

Applications to join should be sent to:

Shortwave Australia

You may can also use this neat form to apply for membership:

---
---
Recommended Links
AUSTRALIA - "RADIOCOMMUNICATIONS RECORD OF LICENCES"
The complete Australian Government listing (free) of all official broadcasting services in Australia - LF, MF, HF, VHF, TV, satellite
http://www.sma.gov.au/database/radcomm/freq.htm

RADIOMAG MAGAZINE
Read our "Broadcast Monitor" column in each monthly issue of Australia's progressive 80 page magazine for electronic and radio enthusiasts!
http://www.radiomag.com
---
Convenor
Bob Padula
404 Mont Albert Rd,
Surrey Hills, Victoria 3127, Australia
Tel/FAX: +61 3 9898 2906
E-mail: Bob Padula

System Support
Clint Felmingham
27 Fitzroy St,
Grafton, NSW 2460, Australia
E-mail: Clint Felmingham
Updated November 6, 2001
Traffic Analysis!