Overview
In 1864, antimony had been discovered at Anderson's Creek (Warrandyte). It was discovered in Ringwood in 1869, whilst road metal was being extracted, in a location described as "the top of a rise west of the road between Lilydale to Melbourne". This was the largest of two veins discovered in the district, the second vein of antimony crossed below the road 70 metres from the larger vein.
Maximum depth of the main shaft was 420 ft.
Several other mines began operation in Ringwood from the 1870s.
The Ringwood Antimony Mining Company was the first mine to operate and continued under several changes of ownership and name until 1894. A part-owner of the mine was Dr Anthony Brownless, Chancellor of the University of Melbourne.
An attempt to recommence antimony mining at Ringwood in 1920, was unsuccessful. One area of abandoned mines was designated a reserve in 1929. even shafts that were still visible in 1936, were filled and covered, and one fenced and used as a garbage dump.

Location
The former antimony mine is totally rehabilitated and is now covered by commercial development. The site was located north of Mt. Dandenong Road and South of the Maroondah Highway. (See Minedat.org map above). The Maroondah Civic Centre now occupies part of the mines area.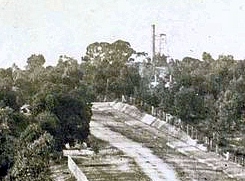 Photo of 1900 from SLV looking east along Sandy Creek Rd, which in later years would become Main Rd, then Maroondah Highway. The mine derrick and chimney are at the right in distance. Ringwood Lake is at right, obscured. At the top of the picture on the right, a road, mainly obscured, leads south to Mt Dandenong Rd. This became present day Mines Rd, which runs between Mt Dandy Rd and Maroondah Highway.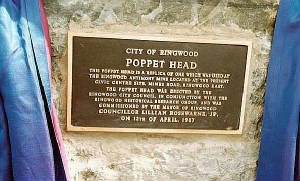 Plaque commemorating commissioning of replica of Poppet Head, 1986, in the Park (Internet).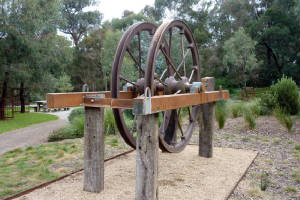 Poppet Head Wheel
This was set up in 1983 near the miner's cottage, but was destroyed by fire in 2005 and demolished.. A commemorative plaque is nearby.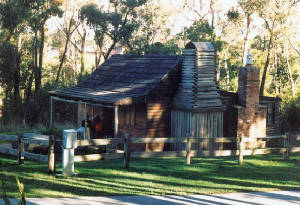 Miner's Cottage History
A miner's cottage built around 1873 stood at 367 Maroondah Highway until demolition in February 1975.
A replica in log-cabin style of a miner's cottage known as the Museum was built in the Park, in 1987, in the east of the Park, next to the present-day carpark. This was actually a replacement for an earlier weatherboard replica which had been burnt down. Sadly, this was destroyed by an arsonist in 2009 and was not rebuilt. A commemorative plaque now stands at the former site.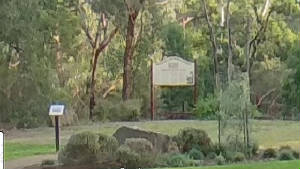 Site of the replica poppet head in 2021. Built in 1987, destroyed by fire in 2005 and demolished. Located at the eastern end of the park, near the main car park. Information Board describes history of the mine.(author)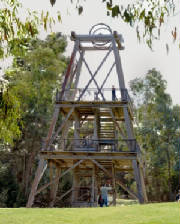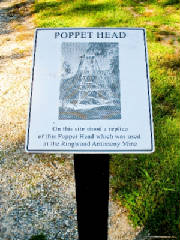 The replica poppet head in 1988 and small sign 2021 (author)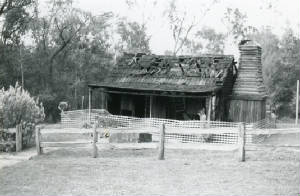 The remains of the first replica cottage after the fire, 1991 (RCHS).
View of the mine and brickworks c1914, from Loughnan's Hill, view towards East Ringwood.