1941 - Auburn - my first bike!
My first bike was given to me in 1941! The pic shows me on the bike in the backyard of our Auburn home. It was actually a three-wheeled tricycle!
From then I graduated to a range of trikes, and then in 1948 I was given my first bicycle, a 24" Malvern Star. I rode this all around the back streets of Auburn, visiting my schoolfriends, and they would ride their own bikes to our house!
I had this bike for a couple of years, then I got a 26" machine which almost needed a ladder to get on o it! That was the bike I used for my chemist round.
In 1956, when I started full time work, I bought a beautiful red 27" semi-racer, which had three-speed Sturmey-Artcher hub gears. This was an excellent machine, which I rode into the hills around Melbourne, with a mate from my Trainee Technician Course, who had a 28" machine with chain sprocket gears.
In 1957, I suffered a serious accident on my semi-racer - I was going down a steep hill near our place and the front wheels got stuck in a ditch which was across the road, left unfilled by council workers. The bike, and me, cartwheeled, and I ended up lying under the bike, which was almost a write-off, with bent wheels and broken spokes. The accident caused me to incur a bad gash and bruise on my rfght hip, as well as injuries to my face and arms. - the scar on my hip is still there.
The bike was repaired, but I hardly ever rode it again, and in 1959 I sold it, when I bought my first car.
I didn't bother with bikes until decades later, when I hired a mountain bike in 2002 in Langkawi, in Malaysia, for a couple of days, which I rode around the island, through villages and past beautiful beaches.
In 2007 I bought a new mountain bike, with 21 speed gears. I did a few rides around Mont Albert, and around Lysterfield Lake. Then the Lilydale-Warburton Rail Trail, and return, doing segments of the Trail each day, a grand total of over 70 km. I take the bike in the back of my Subaru Forester.
My next biketrek is to do the entire Anniversary Trail, 38 km return, from Fairfield to Hughesdale, which follows the alignment iof the old Outer Circle railway line.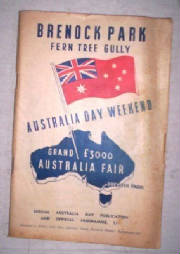 1948 - Brenock Park - Australia Day Celebrations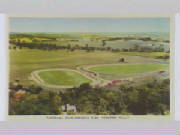 1950 - Brenock Park
STOCK CAR RACING
In the outer eastern suburb of Ferntree Gully there was once a stock car racing circuit. It was located at Brenock Park. and stock cars competed there every Sunday around a dirt and dusty track.
I can recall going to these races in 1955. The cars were mainly 1930/40 model sedans, with roll bars fitted and the doors welded.
The whole thing was dangerous for spectators - in 1956 one was killed when a car left the track and ploughed into the crowd. This resulted in the Government closing down the track in May 1956, but it was reopened a few months later for private racing.
The track is long gone, and St Joseph's College was bult on the land in 1965.
The site is dated to the 1880s when horses were raced there.It later became the venue for the Annual District Show. Pre-1950s, the track was used for bicycle and midget car racing, and the location was known as the Ferntree Gully Recreation Ground. In 1948, there was a special Australia Day Weekend function held there.
From the 1960s, stock car racing continued as a form of public entertainment at other centres, including the newly built Calder Park Raceway north of Melbourne.
In 1944 a gymkhana held at the Ferntree Gully Recreation ground attracted between 8,000 and 10,000 visitors. Organisers realised that a larger ground was required if such events were to expand. Across the road was 28 acres of land covered with blackberries and weeds. The parish priest, Fr Flynn, after inspecting the site obtained permission from the Archbishop to acquire the property from the owner, Michael Brenock (the station master at Ferntree Gully). The paddock was converted into a recreation ground and was officially opened on Easter Monday, 10th April, 1945 by the Archbishop. Approximately 30,000 people, including 20,000 who had travelled by special trains, attended the opening.
Reports of early athletics events held at Brenock Park describe the track as rough. Representatives of the Victorian Amateur Cycling Union, the League of Victorian Wheelmen and the Victorian Athletic League met with members of the Brenock Park sports committee and arrangements were made to upgrade the facilities. The cycling track was to have two 75 yard straights plus two 145 yard bends banked to 5 feet. The circular running track was inside the cycling circuit and contained three cinder gift and sprint tracks down the centre of the ground. A second oval, approximately the size of the Royal Show arena, was also constructed. A dirt track for motor cycles and speedcar racing was built on the second oval. Gymkhanas and the Ferntree Gully Agricultural Show were also held on this oval.
Athletics and cycling carnivals were regularly held at Brenock Park. Apart from the Brenock Park Gift, the New Year Gift and the Australasian Championship were two major athletic events held at Brenock Park. Cycling was held in conjunction with the athletics events. Brenock Park was the finish for a number of Sun Tours including the first Sun Tour in October 1952.
The first Sun Tour was raced on a six consecutive days over a distance of 900 miles between Tuesday 7th October and Sunday 12th October. Sixty-one riders nominated for the race and fifty-six actually greeted the starter.
1940s - Brenock Park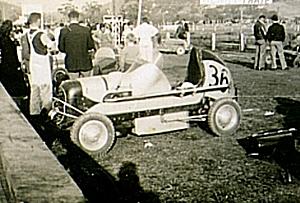 Brenock Park - midget car races in 1949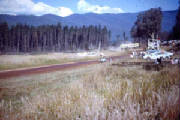 1961 - Bright races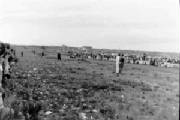 1957 - Phillip Island races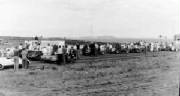 1957 - Phillip Island races
CAR RACING
My first exposure to commercial car racing was at the original track at Albert Park, just south of the Melbourne CBD, in 1953.
There were several other venues which I visited, including:


1951 - Fishermens' Bend Aerodrome - southern suburb
1957 - Phillip Island circuit (south of Melbourne)
1955 - Brenock Park (Ferntree Gully) - stock car races - eastern suburb
1962 - Bright Plantation circuit (north eastern Victoria)

1962 - Sandown Park (SE of Melbourne)
.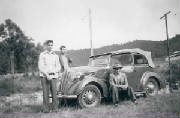 1959 - the Anglia near Upper Yarram Dam - Dad, my brother and self
1958
Ford Anglia Tourer - 1948 model. My first car! This was only 8 HP, russet color, two doors, no water pump (as the car was made in England, a cold country!), fold down top, perspex windows. The radiator boiled on hot days on every hill - we carried a canvas water bag on the front to top up! It also had a dash mounted ignition advance/retard control - very handy! I repainted it cream, and rewired it. It was a good "learning car" - we went to many places in the hills and coasts near to Melbourne. I traded it in in 1950 for an Austin A40 sedan.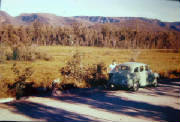 1960 - the A40 near Ararat, with my mate Graeme
1959
Austin A40 Devon sedan - 1952 model. This took us as far afield as South Australia, NSW and Queensland, including several camping trips. It had many overhauls and engine repairs done. I built a car radio for it, from a kitset, and it worked well! I also installed flashing turn indicators, to replace the original semaphore things! I traded this car in for an Austin Cambridge sedan in 1961.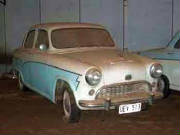 1968 - my A55
1961
Austin A55 Cambridge Sedan - 1958 model. Blue and cream, with steering column gear change. I had this car for nine years, then traded it in for a new Corolla!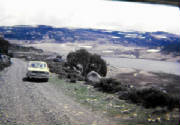 1975 - the White Rocket on High Plains Rd , with mate Robert
1970
Toyota Corolla Sedan 1970 model. This was my first new car! Two door, extractor exhaust, we called it the "White Rocket" and took it up to 100k mph on one occasion (160 km/h!). This went to many places, such as Wilpena Pound in SA, the Victorin and Australian Alps, Gippsland, Western Victoria, the Murray region. It suffered a major engine problem, caused by a crack in the camshaft, and I traded it in for a newer Corolla in 1982.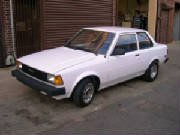 My 1982 Corolla
1982
Toyota Corolla Sedan 1982 model.
I had this car for 12 years, It was bigger than the previous Corolla, but was not as nimble. It took us to many places around Victoria!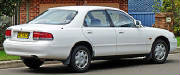 Mazda 626 in 1994
1994
Mazda 626 Sedan - 1994 model - 4D sedan. It went well, had airconditioning and took us to many bushwalking destinations! Towards the end, there was a major transmission failure, with a clutch replacement. It also had rather low ground clearance, and was not so good on rocky unsealed tracks in the forest.I had this car for 11 years until 2007, when I lashed out and bought a Forester Subaru AWD.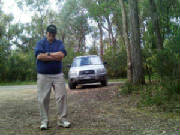 August 2011 - The Forester at Warrandyte!
2005
Subaru Forester AWD wagon - 2005 model - silver grey. Current vehicle, has done 220,000 km. Has had the clutch replaced twice, and it is getting near the time when I will trade it in. It has given excellent service on mountain roads and in the Alpine areas. This was my introduction to the AWD design!
Most of the images in this site are thumbnails. Click on any image to see a full size verson in a new window
If you would like to contact me about my Autobiography, you can do this at