SHIPS
During the early 1950s, we were frequent visitors to Port Melbourne, which at that time was reached by electric train from Flinders St station.
We used to watch the large passenger ocean ships coming into either Station Pier or Prince's Pier. carrying hundreds of people migrating to Australia.
Occasionally, the Royal Australian Navy would appear at Port Melbourne, at times of importance, such as Christmas, Easter, the Royal Show, Test Cricket Matches, the Melbourne Cup or the Victorian Football League Final Matches.
In November/December 1956, many Navy ships were in Melbourne for the Olympic Games.
Usually, some of the ships were open to the public for inspection, and I remember doing some of those "walk-around" tours!
Below are pix I took in December 1953 of HMAS Vengeance and HMAS Australia
Dec1953 - HMAS Vengeance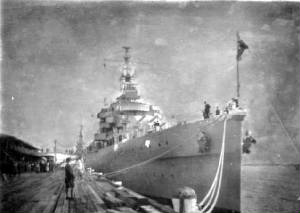 Dec 1953 - HMAS Australia